3000 Series
The Natur-Tec®  3000 series is a platform of high-performance, biobased, and compostable polymer resin compounds for injection molding made with modified PLA (polylactic acid). This platform is specifically engineered for applications where high-heat performance and/or dimensional stability are critical such as foodservice packaging, garment packaging accessories, and agricultural clips. 
Natur-Tec® resins are certified fully compostable to the stringent requirements of international standards for compostable plastics, including ASTM D6400, EN 13432, and ISO 17088 and provide an environmentally friendly alternative to conventional plastics.
Natur-Tec® 3000 series resins are engineered for high-performance and can be easily processed on standard extrusion equipment.
Features
3000 Series Grades
The Natur-Tec® 3000 Series is obtained by letting down our impact-modified, nucleating masterbatch into IngeoTM  or Luminy® performance grade PLA resins.  Innovative masterbatching approach maintains molecular weight of the resin compound, thereby improving mechanical strength of the finished product.  Cutlery made from the 3000 series is tougher than PS at room temperature and stronger than PP at high temperatures.
Natur-Tec® BF3002HT
 Grade Specific Features
Tailored for use in low-cavity injection molding processes, with post-mold annealing for crystallization

Increased dimensional stability optimizes performance while reducing warpage and production scrap
Natur-Tec® BF3002IM
Grade specific Features
Tailored for high-cavity injection molding processes with reasonable cycle times

Exceptional in-mold processing, allowing for precise dimensional tolerance
Applications
Single-use cutlery

Disposable coffee pods

Single-use foodservice packaging

Garment industry packaging accessories
Agricultural clips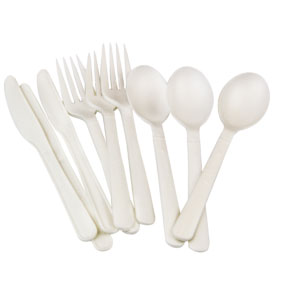 3000 Series Documents and Performance Data
Need more information?
Let's Talk Sustainability
Curious how Natur-Tec® resins can be used to create sustainable solutions to traditional plastics? Please contact our team to learn more and explore the ways we help our clients work towards a more sustainable future!
Natur-Tec® has production and research and development capabilities all over the world with local teams to ensure your success.